The proposal that teachers could soon evaluate their own school administrators is not something different or new as we educators ourselves had voiced this out but were ignored and not entertained.
Definitely, none of the administrators with open arms will say "yes" as everyone knows it will not be seen as favourable to them.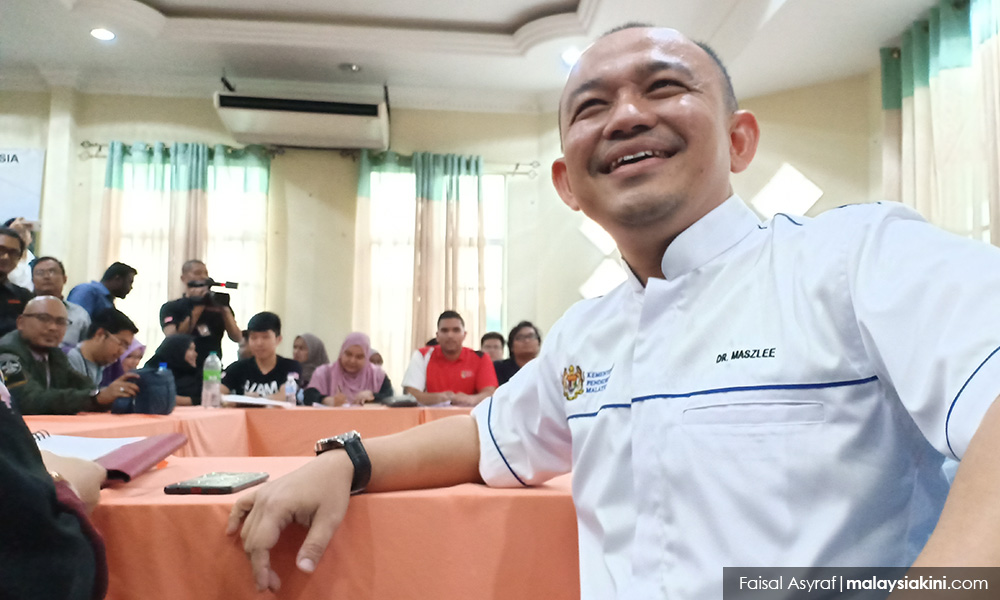 Education Minister Maszlee Malik is, in fact, aware that the Ministry of Education will now come up with an "allow and give us time to evaluate the proposal" move.
His recommendation also mentions the assessment of the performance and credibility of education administrators (we need to include the head of units, heads of department, deputy directors and the directors of the PPD, JPN, IPG and etc.) as well as appropriate mechanisms and systems to implement this proposal.
Education sector personnel are also using a new performance appraisal system called the Integrated Assessment for Education Service Officers.
In the context of government employees, the "officer being assessed" (pegawai yang dinilai) is often denied a transparent, honest and sincere assessment by the assessing officer and is forced to accept facts and statements given by the "group" who conducts the appraisals.
This has been running since the first era of Bersih, Cekap dan Amanah.
Even though the administrator is responsible for providing a productive environment, the views and opinions of officers being assessed are rarely respected and are usually discarded.
We educators are strongly advised to comply and cooperate in all activities. Although we all have the same roles, goals and objectives, we are often forced to accept and follow a one-way "administration" style.
Whether it is true that the opinions, views and voices of the government staff are to be heard or entertained remains to be seen as there has been no positive indication that this has been demonstrated.
Will the administrators or those who are the heads of unit, heads of department or directors be ready to be openly rated or assessed by their subordinates.
Certainly, they will disagree as they will say "they are the leaders, they are powerful and they are the only ones, the chosen ones and have the right to say 'no'".
Should a pre-run be held in assessing the administrators, the assessment must be evaluated by an independent and neutral committee the organisation itself. This is to ensure the opportunity for parties to respond honestly, transparently and sincerely and without being afraid.
Officers who are often victims are only able to pray and hope views and comments given through the proposed assessment process will be given the appropriate consideration.
The assessment of existing feedback itself is still being held up and is not being attention the proper attention by the relevant institutions.

Bakor Lambok The Malaysiakini Letters 5 October 2018


*********

Teachers could soon evaluate their own school administrators reported on Oct 1, 2018 is not something different or new as the educators themselves had voiced this out but ignored and not entertained.

Definitely none of the administrators with open arms will say 'Yes' as everyone knows it will not seem to be favorable and a kind of positive gesture to them.

Education Minister, Dr. Maszlee Malik is in fact aware that the Ministry of Education will respond and come up with 'allow and give us time to evaluate the proposal' as it will involves the administration at the school level especially the headmaster or principal.

His recommendation also mentions the assessment of the performance and credibility of education administrators (headmasters, principals need to include to the Head of Unit, Head of Department, Deputy Director and Director of PPD, JPN, IPG and etc.) as well as appropriate mechanisms and systems to implement this proposal so that the impact on school administration will be more arranged.

All government staffs (especially the education sectors) are aware that any Ministries and Departments of Malaysia do require all staff to provide the best service. The education sector personals are also using the new performance appraisal system called the Integrated Assessment for Education Service Officers.


In the context of government employees the 'oofficer being assessed' (Pegawai yang di nilai) are often denied the transparent, honest and sincere assessment from the Assessing Officers and are forced to accept the facts and statements given by the 'group' who conducted the appraisals. It has been running since the era of solidarity, 'Clean, Efficient and Trustworthy'. (Bersih, Cekap dan Amanah).

Even though the administrator is responsible for providing a loving and happy environment, the views and opinions of officers being assessed are rarely respected and usually discarded.

We are strongly advised to comply and cooperate in all activities. We all have the same roles, goals and objectives but are often forced to accept and follow one-way 'administration' style.

Whether it is true that the opinions, views and voices of the government staffs is to be heard or entertained, there's still question marks hanging as there has been no positive indication that has been demonstrated and implemented.

It is true that the effectiveness has been emphasized, identifying the advantages and disadvantages for the purpose of improvement but will the administrator or those who are the Head of Unit, Head of Department or Director be ready and openly be rated or assessed by 'subordinates'. Certainly they will disagree as they will say 'they are the leaders, they are powerful, and they are the only one, the chosen one and have the right to say no'.

Should a pre-run be held in assessing 'the administrator', one would guarantee that the assessment results given to them will be quickly and promptly submitted, but the assessment submission to 'the administrator' must be evaluated by 'independent and neutral committees' or non-institutional or organization itself. This is to ensure the opportunity to respond honestly, transparently and sincerely and without 'being afraid' or responding to action.

'Officers who are often victims' may only be able to pray and hope the neutrality will take into account and pure attention given to the views and comments given through the proposed assessment process. Assessment of existing feedback itself is still being held up and is not taken proper action and attention by the relevant institutions.

Azizi Ahmad Malaysiakini Letters 5 October 2018